Finding Inspiration between "Walls"
"Give me a topic," Junior Shawn Parker asks his mother.
Intrigued by the advertisements of a poetry contest from Librarians Emily Mirsky and Kimberly Broomhall, Shawn took on the challenge. He sat with his iPad in hand, his mind full of ideas and potential. His mother thinks for a moment, wondering what idea could be adequate enough for Shawn to spring off of. 
"Write about our favorite show," Irizarry answers.
Satisfied with the response, his mind wanders further down. Show, show, show….Walls!
After taking on the National Poetry Contest, Shawn Parker received a letter from the National Library of Poetry. His poem was selected to be published in the book called "Expressions" set to be released in the coming fall. 
…
Shawn has always been an artistic soul. From childhood, Parker recalls always holding a sketchbook and pencil at home. From the young age of six alone, he was already volunteering with a non-profit organization dedicated to the arts, Lakeside Arts Foundation, based in The Colony.
"We help boost the art community," Parker said. "No matter the form. Performing, literary, etcetera." 
Having been an active volunteer for almost more than 10 years, Shawn was not only nominated, but also won an Angel Award, along with holding positions of authority in the organization, such as Social Media and Youth Advisor. Holding this award serves as proof that Parker has made significant impacts in the community.
"The award itself proves that you are a valuable member of the art community," Parker said. "You've produced art, you've tried to express not only your own art, but others' art, and you try to get their art out there." 
As Parker grew, his mind never once ceased to try a new creative outlet. He began to grow more comfortable with his creativity and felt more comfortable expressing his big ideas to others.
"Shawn has had artistic influence his entire life," Mother and Artist Christine Irizarry said. "He was not always outwardly expressive of all his creativity, but with the boost of American Karate and Theatre, he grew more comfortable." 
As he took bigger and bigger steps out of his comfort zone, Parker's mind couldn't help but be intrigued by Ms. Mirsky's and Mrs. Broomhall's advertisements.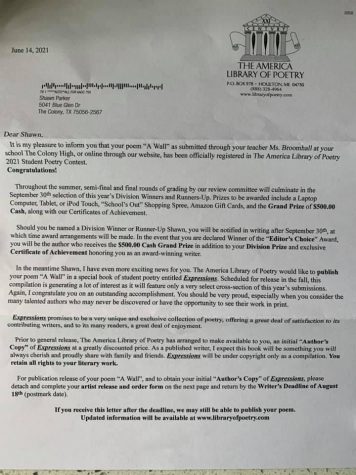 "We wanted something for the students to be able to do and take home," Librarian Kimberly Broomhall said. "I know we have a lot of students who enjoy writing and poetry and thought that this was an awesome opportunity for them."
America's National Library of Poetry pushed out a contest in April for National Poetry Month. An opportunity for students to not only win a cash prize, but become published poets such as Parker himself. 
"We love it when our students can win money and, you know, feel success," Assistant Librarian Emily Mirsky said. "We encouraged Shawn because he is a wonderful writer and it was open to everyone." 
Rather than approaching this challenge in a haphazard fashion, Parker took the time to truly connect with his piece. He yearned for a concept he could sprout off of, as his mind was sorting through various concepts. That's when his mother gave him the idea that would make him a published author. 
"She had replied with Attack on Titan when I asked for ideas," Parker said. "It's one of our favorite shows. The whole show itself revolves around a series of walls, so that concept sprouted from there."
"
It's truly an honor to be published at the age I am," Parker said. "Whether young or on their deathbed, everyone has some form of art- some more than others. It's incredible that I'm going to be published, and not many can say that."
— Shawn Parker
Expanding from there, Parker expressed an interest in love-driven poems and he was able to showcase that in the poem, "A Wall." With a bittersweet meaning, "A Wall" shares the story of two lovers who passed away and weren't buried in the same grave like they had wanted. 
"A Wall means so much to me," Parker said. "I feel like it's one of my products that I am most tied to and connected with."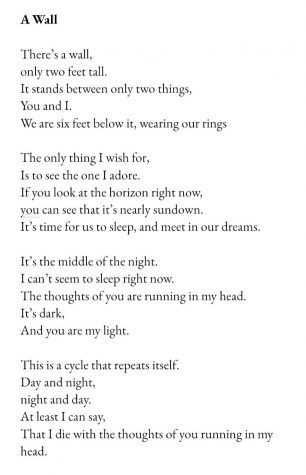 His mind is always full of poetry, he said. But, he tries to write at least one poem every two months.  Another piece he's written is "Dancing in the Roses," which is about death, birth, the loss of sanity, togetherness and the beauty of life. He decided on "A Wall," instead of "Dancing in the Roses," because he wanted to submit something more lighthearted for the competition.
Out of thousands of students, Shawn was selected. "A Wall," would no longer be a poem sitting in a file, but now actualized in a publication. 
"I am so excited for Shawn," Broomhall said. "I think it's important for students to be celebrated for the awesome things that they do, and I feel that high schoolers often don't get enough recognition for things like writing."
With its release this coming fall, Ms. Mirsky is beyond excited to put a copy of this book into the TCHS Library. She believes that Parker not only deserves this, but that he worked very hard for what he's achieved. Parker looks forward to watching his art live on a page. 
"It's truly an honor to be published at the age I am," Parker said. "Whether young or on their deathbed, everyone has some form of art- some more than others. It's incredible that I'm going to be published, and not many can say that." 
Leave a Comment