Meet Jackson: The New Freshmen Yell Leader 
Editor's note: This photo was named an honorable mention feature story in the 2022 TAJE Best of Texas contest. 
His smile is from ear to ear as he jumps up and down. He cheers on his brother proudly from the stands. 
Wyndi Geren notices her son's cheers and so do others. Jackson jumps up and down. All he wants to do is keep cheering. She works to make that happen. 
Now, at pep rallies and freshman football games students, faculty and community members can see Jackson cheering with gold shiny pom poms waving through the air. This is his happy place.
Jackson Geren is the first student with Down Syndrome to be Freshman Yell Leader on campus, a position on the cheer team. 
Wyndi says he's always loved cheering whether in a group or with family at a game.
"Ever since he was in elementary school we would go to football games and he would stand by the cheerleaders on the stands and he would mimic and do cheers with them," Wyndi said. "His older brother used to play football and Jackson loved going to the games and cheering for his brother."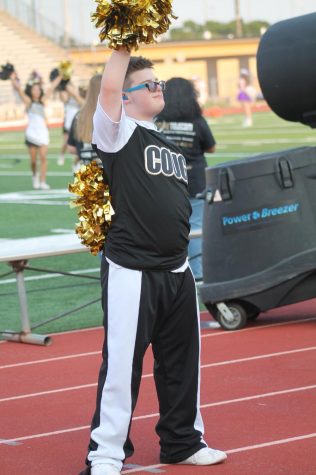 … 
Wyndi, noticing her son's love for cheer, inquired about cheer while Jackson was in seventh grade, with the help of Misty Graham, Jackson's middle school Academic and Vocational Life Skills (AVLS) teacher. 
"I just helped her make the connection with our cheer sponsor," said Graham. "Jackson is a natural performer, acting, dancing, singing or cheering, he does it all." 
 Yanilsa Griffin was his cheer coach at Lakeview. She was excited to allow Jackson to be a part of her team, and she was amazed by the support the other cheerleaders gave Jackson.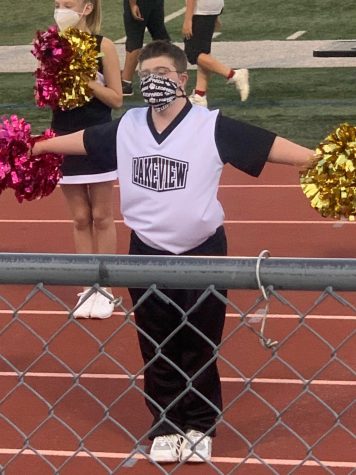 "My cheerleaders at the time were just the sweetest I have had in a while. They were so patient with him, and so supportive," Griffin said. "They would tell him when to jump, to grab his poms, when to sit down.The school, as a whole, would rejoice when they saw him in his uniform. He is just so full of life, and he would come alive when he had his poms and uniform on."
Jackson has also been diagnosed with hearing impairment, so he uses American Sign Language (ASL) to communicate with his team. 
"[The team] even took it upon themselves to ask Rachael Wright, his caregiver, to teach them some signs that would be helpful during the games and practice," Griffin said. "So, they learned them and we would all sign to him. I hope that my squad took away the importance of everyone feeling like they belong and that we should do our part to be inclusive, regardless of ability, color, gender or background."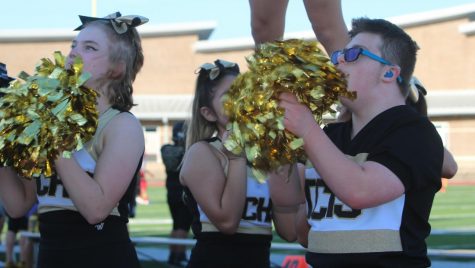 Graham smiles as she remembers how much Jackson loved to perform in middle school. 
"So many moments stand out, but the biggest moment that stands out was a visit to TCHS to watch a sensory friendly Shrek performance and at the end the cast was signing in the cafeteria, so Jackson took it upon himself to join in and steal the spotlight," she said. "It was one of my favorite moments watching him dance, sing and perform."
Wyndi hoped that cheering wouldn't have to end when Jackson left middle school. She knew how much it meant to him, and to herself -to see her son shine. She contacted Jackson's AVLS teacher, Jennifer Shaw, to see if he could keep cheering. Shaw reached out to cheer coach Heather Jones, and he was able to join as freshman yell leader. 
"Jones said they would love to have him on the team," Shaw said. "I think it's positive not only for Jackson, but also for the general ed students. So they can learn about disabilities, and to normalize- so people can see that our life skill students are people, too, who want to be included and involved just like everyone else."
Jones is excited to have Jackson as the Freshmen Yell Leader. 
"We love having him on the team," Jones said. "He's really good about having school spirit. He's always really excited to be wherever we are and it's really good for the girls, they always look forward to having him around and helping him out."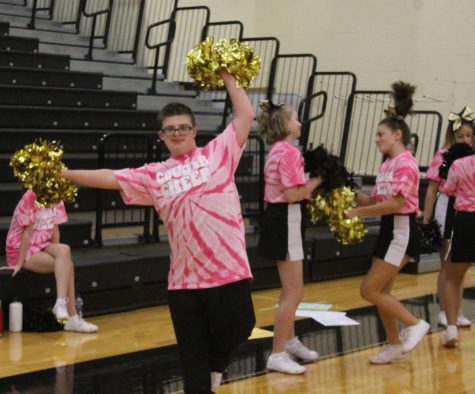 Carrisa Rowland is a current freshmen cheerleader, and she also cheered with Jackson at Lakeview. She loves cheering alongside him.
"He does really well, we'll be stretching and he'll follow along and we'll be doing cheers and he always hits the emotions," Rowland said. "Having him on our team shows more diversity of our school and makes people feel more accepted for who they are."
Shaw signs to Jackson if he loves cheer.
He smiles. He says and signs yes. Yes. 
Leave a Comment