The Heart of The Cougars: Principal Baxter's journey to TCHS
The Colony High School's Principal, Dr. Tim E. Baxter, has officially seen it all.
From walking the halls of TCHS as a student to helping coach Grapevine football to a state title and now overseeing thousands of students, he has experienced every angle of the education system. 
Ultimately, though, all great journeys lead back home, and Baxter's home is The Colony High School.
"People don't realize until they're at The Colony what a special place it is," Baxter said. "We have the very best students anywhere – people just get along. Having the ability to be in that environment draws people in."
Throughout his various stops, The Colony's diversity and inclusion sticks out above all else. 
"We feel that diversity is our strength. We have all ethnic backgrounds and racial makeup," Baxter said. "Most students at TCHS get along well with each other, they're very tolerant of all people and not all high schools are that way."
Baxter has always admired The Colony's accepting and personable nature while aiding the same characteristics for years. 
In fact, his first year as principal at TCHS, Baxter was proposed the idea of getting taped to the wall for a charity fundraiser. Four lunch periods later, he completed the grueling task and said it was beyond worth it in favor of the cause.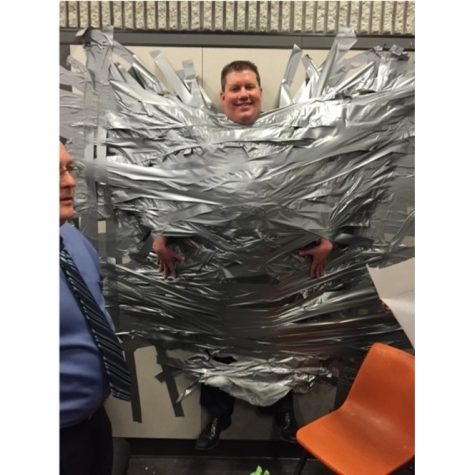 "They finally had so much tape around me, that when they started to cut me loose, it started to choke me," Baxter said, laughing at the memory of it. 
Many students might also remember another famous picture of our principal – the iconic Topcat Breast Cancer Awareness dance. Baxter was seen dressed in a hot pink wig and a fluffy boa, with a big, genuine smile on his face. 
In addition to charity events, Baxter makes sure to attend every school function he can, whether it is for sports, fine arts, Life Skills or general student life. While not everyone may notice, long-term substitute Fannie Mena has always paid attention. 
"The Life Skills kids had a pageant, and he was in the audience there," Mena said. "He supports every club and aspect of the school. I just went and pulled him on the dance floor."
Though students have only seen him as principal, that is not the extent of his experience. For instance, long-standing TCHS Chemistry teacher Kim Mosely has seen Baxter blossom throughout various roles.
"He started out very black and white," Mosely said. "As he's gone through being an assistant principal and then a principal, he's embraced the differences and greatness in-between and found value in all those things."
Varsity basketball coach Cleve Ryan is also a longtime friend of Baxter, he said. 
"It's been a unique friendship, working relationship because we've pretty much grown up together through our careers," Ryan said. "Arbor Creek used to feed into The Colony when Baxter was here as an assistant football coach and basketball coach, so we stayed connected."
Baxter has remained in-touch with several colleagues, and they all have one common denominator about him – fairness.
In fact, the dress code was recently amended after parent and student surveys revealed a desire for change. Now, students are free to dye their hair, have tattoos and ultimately express themselves at a much higher level with Baxter as principal.
"I was a bit surprised with this change," Senior Leda Jimenez said. "It really does show that he's listening to us, though, especially when this follows up the petition that started early in 2021."
Ryan added, "Whether it's with students or whether it's with staff, students, parents, he's supporting them."
Under the veil of all of his responsibilities, though, Baxter has some relatable hobbies. If anyone wanted to take advantage of his open door policy, it would not hurt to wear a Seattle Seahawks shirt or mention Armin Van Buuren on the way in.