It Comes Naturally
Juniors create beauty brand focused on natural products
Holding her head as steady as she could, little Olivia sat with her granny. The scent of hair products hugged the air around them. Watching whatever played on the old gray box TV, she sat patiently. She remembers her granny's voice as it would break her attention from the sounds of the TV to tell her all the necessities of a good hair routine and list the steps to take care of her hair. 
She sat like her granny once did with her own grandmother. Listening intently, she learned how to care for her hair. Moments like this are fixed into her brain. Her biggest pride- her hair- she wears it like a crown.
First Day  
Walking into the first day of first period met with new faces can bring some nerves, especially in a class dependent on having a partner to build a brand with. Two young women ultimately paired together based on the interests they shared. 
Hair.
Juniors Olivia Mason and Amiya Alexander are paving the way to their future after joining a new program on campus called Incubator. Incubator is a class where students get to create a business and meet with local entrepreneurs to help refine and promote their business. Mason and Alexander started a company, called Xinel. Xinel is an all organic and handmade beauty brand, a creation of their dreams. Xinel currently sells hair oils and has more products in the making.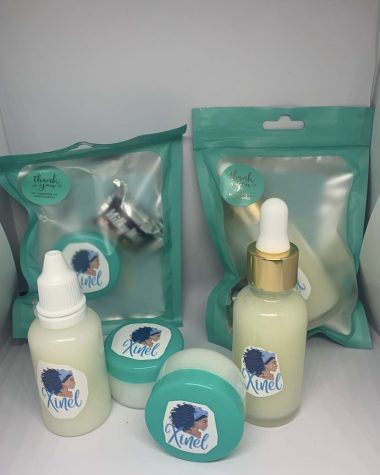 Knowing the struggles of managing and maintaining hair they also know the amount of money that goes into trying to find hair products that work. Xinel aims to give affordable and natural beauty products to those who deeply care about their hair and skin and want to stay natural.
"Growing up a person of color, especially with thicker hair, you're always having to combine different hair care products and put different things together to find a solution that works," Mason said. "It's always been something I've liked doing because I've had to do it. It's fun doing it for myself and helping other people be able to do it too."
When conducting their research they found a lot of products marketed towards people of color and people who suffer from dry skin and scalps often contain harsh chemicals. Before Alexander and Mason created their final formula they made a prototype.
After some trial and error they found their perfected formula.
"Amiya made a recipe and I made a recipe," Mason said. "We saw which one people thought was better. One was a little more oily and one was a little more thicker. One had more of this or more of that. We combined that together and found what people liked most."
This Is Business
While making the product is an important step in any business, there are many steps that have to be done prior. Lyquisha Ballard, CTE Department Head and Incubator Instructor, has taught all Incubator students of the vital steps it takes to run and build a business.
Students have to research current trends in the market, research pricing in the market, do customer surveys, revamp products and make sure their pricing matches their competitors.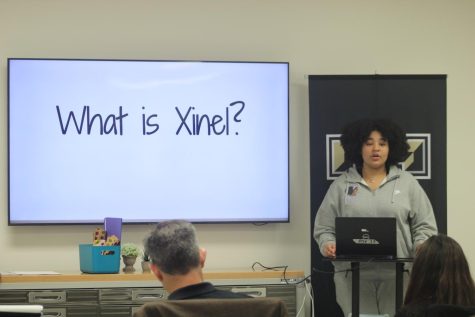 Mentors are paired with students in Incubator to help them navigate the new world of business. Mason and Alexander were paired with Robin Mainer, owner of Honest 1 Auto Care in Lewisville, and had an instant connection with one another. They're in contact with her almost everyday giving updates on their business and products in the making.
"She helps us with the pricing of our products' labor and really more of the law stuff that goes into the products," Alexander said. "Outside of the brand she's helped us with just life in general."
Mainer has been a big part in helping Mason and Alexander build Xinel. Mainer enjoys being able to see the girls put in the work and see their success. Mainer recalls in the beginning that they had many ideas for expanding their brand, but she wanted them to focus on one product to begin with. 
"They did the work," Mainer said. "I just got to go along for the ride. I adore the girls, their product and their enthusiasm."
Xinel's hair oil hasn't only been popular amongst students but people in the community and businesses as well. To Mason and Alexander's surprise, their biggest consumers right now are businesses rather than students. 
Mainer had brought the oil to her hairdresser and said she loved it. Her hairdresser found that it not only worked amazing on the scalp but on cuticles and facial hair as well and was shocked the formula had been crafted by high school students.
"I truly believe both of these girls can do and be anything they want to be," Mainer said. " They have so much more confidence in themselves than I did when i was their age. They're so smart and anything those girls set their mind to they will accomplish."
Ballard believes the secret to Xinel's success its efficiency.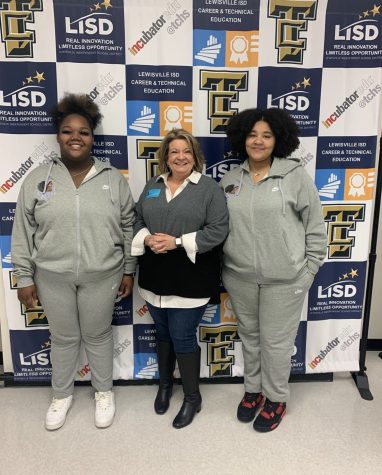 "I think what sets them apart is that they're achieving the same outcome but with less products," Ballard said. "With less ingredients."
Anyone who knows the creators of Xinel know them as funny upbeat young girls that give back to their community. Through Mason's church they hope to help raise funding and give products away to underrepresented groups.
"We have decided to do something with foster care or domestic abuse homes where we basically help them out," Alexander said.
Mason and Alexander have a passion for beauty. One of the most recent product lines in the making is expanding into the skin care market. 
"We're working on a body scrub and body moisturizer," Alexander said.
An important tip Mason and Alexander got from Mainer is brand recognition. They needed all the feedback and exposure they could get. Their instagram is @xinel.hair.care and in their bio they have a linktree with their other social media platforms and pre-order forms. Xinel gives the option to pick it up from the Incubator room or have it shipped directly to you. 
"We're really big on social media right now," Mason said. "We have instagram, tiktok and twitter."
There is also a website in the making where they plan to upload informational posts about themselves, advice on how to take care of hair with natural products and some hair tutorials. They're currently working with someone to create their website and hope to have a few pages up by late April. 
"Just little things to help people who don't know much about their hair and skin," Mason said. 
Some of the various responsibilities that Mason and Alexander have to keep up with is making the product itself, marketing the product, developing the pricing, doing test runs with new products and keeping up with social media posts. With a ton of new responsibility, the girls trust themselves to keep on top of it all.
"I find it comforting because we're not having other people do it for us so we don't know what they're doing," Mason said. "We're taking our time and care with it, not just rushing to get it done."
Xinel's Success
Both were confident from the beginning that Xinel would succeed. Mason had personally felt confident because of the passion they had for their business which left her with no doubts or questions about the future of their business. They appreciate all the support that they've received for their business.
"There's always going to be people who don't want your product or don't support you and that was really the only doubt," Alexander said. "I knew we'd have supporters, but I didn't think we'd have as many as we do now."
Along with the support they get from their community and mentors, they cherish the support from their moms. Alexander says her mom is in full support of what she does and always has her back.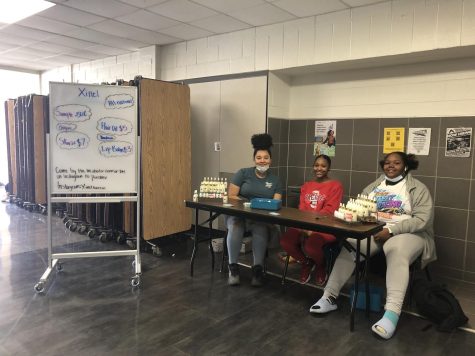 "She's always supported me no matter what I do," Alexander said. "We were even talking about how if I didn't want to go to college and just do this full time that she would be in full support of that." 
As black beauty creators they're proud of what they have accomplished and what they will accomplish in the future.
"It's amazing. Today there's not a lot [of black beauty creators] and most of them are to themselves or small in their communities," Mason said. "Being one, in our school, where there are a lot of black and minority students to help support us, we have gotten a good amount of support from them."
Mason and Alexander's week is chaotic. Their week is entirely based on what they need to do and what needs to be done. 
"We work 24/7," Mason said. "This is something we are passionate about."
View Comments(1)