The 500th Win
Coach Coleman Has 500 wins, but that's not why she does it
She stood across from an Olympian. She stood on the fresh-cut grass at The University of Texas' new shiny softball field.
Up to bat. This wouldn't be easy. She took a deep breath. Here comes the pitch.
The Olympic pitcher had already struck out every other player on her team, but college player Deana Coleman had yet to be struck out. 
The ball headed towards her. This is it. The ball made contact with her bat, and once again, no strike. 
"The pitcher we were playing against had just come back from the 96 Olympics and won a gold medal," Coleman said. "She was tearing us up- but I was the only one she didn't strike out, so I was proud of that." 
Night of 500
For Coleman, softball didn't stop in college. On March 25, Coleman earned her 500th win as a coach in a game that seemed over for the Lady Cougars, but transformed into one of the best games, Coleman says.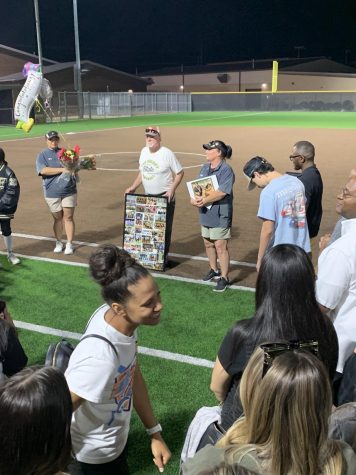 The TC varsity softball team was down 2-0 in the seventh inning with two outs. The game looked like it would end in defeat when suddenly junior Kaitlyn Moeller got a hit. After her, player senior Tamya Grant-Waiters got a triple hit- intensifying the game. In the height of anticipation, junior Sydney Young came up to bat and scored into Grant-Waiters from third base to win the game.
"They threw it over the second baseman's head trying to get her out and she came around and scored," Coleman said.  "That's how we beat them- it was the most exciting game of the year."
The Cougars defeated Sherman 3-2, totaling Coleman's 500th coaching win. Celebrating the win with coach Coleman was her daughter, Ashlee Wilkerson. Wilkerson is also a coach at TC who even played for her mom when she was in high school.
"It was super exciting following it [her mom's coaching career] along and then that game- that was the 500th," Wilkerson said. "It was a crazy comeback at the end of the game so it was super exciting for the players and my mom."
Principal Dr. Tim Baxter was there to cheer on Coleman's success.
"500 wins is a huge accomplishment, a lifetime achievement for her," Baxter said. "To win that many games is just incredible."
Baxter says that Coleman transformed the softball team at TC when she arrived. He describes Coleman and her coaching style.
"She's dedicated to her athletes," Baxter said. "She has love for her athletes, vision for her program, detail in her practices and lots of hard work."
Before the 500
When Coleman was a little girl she sat in the stands and watched her older brother play baseball. Her eyes stayed glued to the field. Mesmerized by the sight of the green outfield and the sound of the balls hit over the fence. This was the spark. 
"I just fell in love with the game, " Coleman said. 
Though her high school didn't have a softball team she played volleyball, basketball and ran track for her school, but softball was her true love. So, she played select softball outside of school.
Proving herself a worthy player on the select softball team she got offered a scholarship to play softball at Stephen F. Austin University in Nacogdoches. Shortly after she committed to SFA the coach decided to move to Texas Woman's University, Coleman and seven other players went with her. 
"We decommitted from SFA and all of us followed her to Texas Woman's University," Coleman said. "So she basically had a D1 team at Texas Woman's which is a D2 school. So, we were pretty good and we won a lot."
After college, Coleman started her 24-year-old coaching career at Richland High School. After that she spent time as a coach at Paschal High School and then made her way to The Colony. She has won state championships at all three schools.
Her players, including her daughter Ashlee, note that she is always dancing and enjoying being a coach. Coleman fell in love with coaching because as she describes it, there is nothing like seeing a player develop and accomplish their goals.
 "I had a girl actually two weeks ago, when I was throwing batting practice she hit it out of the park she was jumping up and down cause she never hit one, not even close to the fence- she put in the work," Coleman said. "She just did it. She actually went around the fence to get the ball and kept it because that was her first home run and that was so sweet, and those moments are why you coach."
In Coleman's own family, softball runs in their DNA. Her daughter Ashlee played at The Colony and in college, and her youngest daughter Jayda Coleman also played at The Colony under her mom's coaching. Jayda now plays softball for the University of Oklahoma and she also played at the 2019 U-19 Women's Softball World Cup and the USA Softball International Cup.
"Softball 100% runs in the family," Wilkerson said. "I have cousins who have played baseball in college and professional level, my sister is currently playing at Oklahoma university, she's a national champion, I played softball in college so yeah the whole entire family plays."
More than Game
Coleman cares more about the players than the wins. She notes that while she is proud of the state championships at Richland, Pascal and two state championships at The Colony High School she is more proud of who her players go on to be. 
"
Because nobody is going to remember every hit or every defensive play but you'll remember the people you play with and you'll remember the people you play for and that is what carries you through the rest of your life.
— Coach Coleman
She notes that some of her girls have gone on to become physical therapists, doctors, nurses in the NICU, work in real estate, become business owners and have other successful careers.  
"Those are the things I'm most proud of because they all come back and say "Oh my goodness, that's where I learned my work ethic from playing for you cause we knew you loved us and everything you told us is so you can become a better person and a better softball player,"" Coleman said. "But it's not always about softball, it's about life, and that means more to me than anything."
For Coleman it's what follows after softball that matters.
"Because nobody is going to remember every hit or every defensive play but you'll remember the people you play with and you'll remember the people you play for and that is what carries you through the rest of your life," she said.
View Comments (2)