Achieving Rank in a New Country
Editor's note: This column was named honorable mention feature in the 2022 TAJE Best in Texas contest. 
As a kid moving from Burma to Texas, Van Ven feared starting a new life in a whole different country. He didn't know the language. He didn't know the culture. But, little did Ven know then, that as a senior he would be a completely different person and become an officer in JROTC. 
Senior Van Ven is in his fourth year of JROTC, this year he became Battalion Commander. Since his freshman year he has been committed to get this position. 
…
Ven lived in Burma, also known as Myanmar, until he was 8 years old. He moved out of his village called Zokhua when he was 6 and moved to a larger city for two years while waiting for his visa. His family decided to move due to the corrupt government and to seek a better future, he says. This process was difficult for them because they had to wait and wait. But finally, they were on their way to America. 
"When I first got here I felt very nervous because I didn't know what to expect," Ven said. "Everything here was all new to me, like all these cars, tall buildings, and lights. They were all very new to me; it felt like I was even on a different planet." 
Ven's childhood was tough. He felt timid when he first moved to Texas. Starting second grade he was very nervous because he didn't know what to expect. He had to learn a new language. This place was so different. The people were so different. Every aspect was very new and different for him. 
 "My childhood was very confusing," Ven said. "I spent my childhood mostly alone cause I didn't have friends here or know anyone. I spent it mostly learning subjects and things I never even heard of or even knew existed." 
In middle school, Ven branched out as he was getting more comfortable with the new environment. He even did extracurricular activities like sports and got to know lots of new peers. This is when he got his inspiration to join JROTC in High School.
"
My childhood was very confusing," Ven said. "I spent my childhood mostly alone cause I didn't have friends here or know anyone. I spent it mostly learning subjects and things I never even heard of or even knew existed. 
— Van Ven
His older cousin who had already moved to the US before Ven was Battalion commander at Lewisville High School and his sister also joined the Navy JROTC her freshman year in LHS. That is what inspired him to also join the program at The Colony High School. 
Ven joined JROTC his freshman year. He was excited and eager to learn from his seniors and climb up the rank. He felt like it was supposed to be, and he was confident that one day he would earn the Battalion Commander rank. His dream came true.
This year, he was chosen to be Battalion Commander, the highest rank a JROTC student can achieve. He is in charge of the program, so everything that goes on within the program goes through him first. He overlooks every activity and makes sure his cadets are in check so the program runs smoothly.
Throughout his journey JROTC has impacted him as a person, it has taught him to be disciplined and learn leadership skills.
"I worked very hard to become Battalion Commander," Ven said. "I always made sure I was the best dressed and my work was done. From the very beginning I had to be the most respected in  the battalion in order to get the position, that way the other people wouldn't question my authority. So in order to make sure of that I had to be positive that I was a well respected leader." 
Colonel Eddins has known Van Ven since his first year. She has watched his strength in leadership grow from the very beginning to now. It was difficult at first but she is very proud he is the Battalion Commander this year.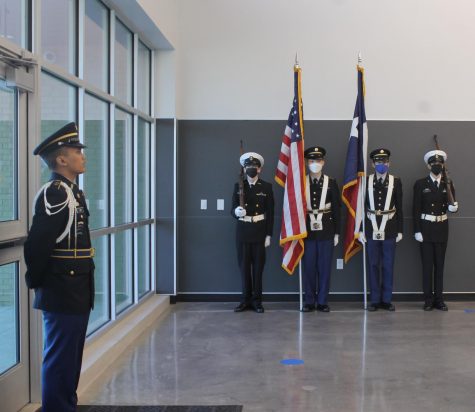 "His confidence is what led him here," Colonel Eddins said. "Initially, it wasn't easy in his first years but he has earned and learned his position quite fast. He knows when to step in and knows delegation which is important. He has come a long way, but his confidence is what I see most."
First on Ven's list of duties, he wants the program to pass JPA (Joint Program of Accreditation) 
"I hope to accomplish and pass our JPA this year," Ven said. "The JPA is a review of the program by the brigade to see if we should still be allowed to keep the program. This year it might be hard because we don't have as many kids as we would like to."
Focused on success, Ven wants to leave his mark on the program. 
"I want to be seen as someone that has always been a kind hearted person," Ven said. "I want to be seen as a person who others can depend on and to remember me for my friendliness and achievements."
Leave a Comment