The Trainer behind the Athlete
Before the bell rings, and before the day begins, the training room comes alive. In one corner, a football player has his left ankle wrapped, and in another corner, a cross country runner is getting their leg iced. Each person has their individual tasks to get done, regardless of the others. 
The first aid is tucked away in rows of cabinets, the dull walls painted with years of overuse. A scent of dampness lingers in the air. This place, at first glance, doesn't seem to be special in any way.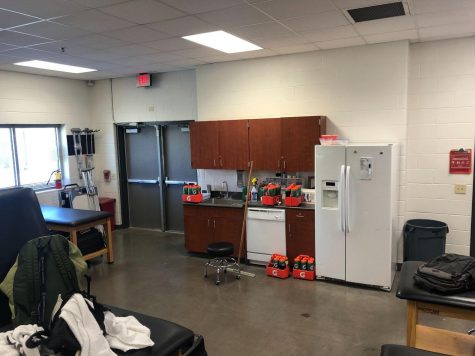 But this is her happy place.
Senior Kaylee Veath has known this room for the past four years- she is in her last year as a trainer. Veath has been a trainer since freshman year and originally started because of her love for athletics.
"I've always had a thing for medical stuff, so this is the way I can do it," Veath said. "It's another way for me to be athletic and be a part of athletics without actually straining my body."
Preparations are being made, slowly but surely. The water bottles are lined up to go, tape, bandages, all ready. Everything has its own place to be, shelves, lockers, and counters. 
All of the trainers line up, one by one, to go onto the field. At a brisk pace, eyes narrowed from the blazing sun. Each person is covered in a uniform-styled black polo with a medical logo sewed on the pocket. Every step ended with a faint crunch on the artificial grass.
"
When people get hurt, I can take care of it, and when something really serious happens, I don't have that panic stage," Veath said. "I don't go into shock. I know what to do and I'm the person that people can turn to.
Football is a treasured sport on campus. Particularly, the homecoming game. From avid football fans to students celebrating their school spirit dressed in large mums and colorful garters. 
"Football is the most active we can be, and we are interactive with the game," Veath said. "It's very much entertaining for us in a way."
At the Homecoming game Friday, Sept. 10, the stands were packed full of enthusiastic fans. Veath glanced at the filled stadium training at the last homecoming game she'd be a student for. 
Although a slight ring was writhing in her ear, all she could hear was the hushed deep breath of her fellow trainers.
She had trained for this.
She was prepared.
"When people get hurt, I can take care of it, and when something really serious happens, I don't have that panic stage," Veath said. "I don't go into shock. I know what to do and I'm the person that people can turn to."
The game had begun. Anxious, Veath watched as the ball was carried from one player to another, one after another, and so on. Every movement from the players brought Veath more tense. Supplied with water bottles, the athletes come to the side of the field to get a drink. 
Most people believe that this is what trainers do. They're water girls- that's the job. However, trainers don't just give water to the players, they're well-practiced in the health of the athletes, including hydration.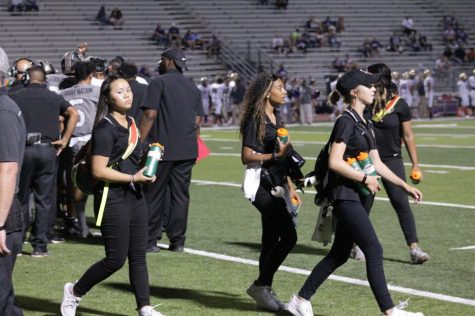 "We are responsible for the health and well-being of all the athletes, our job requires care, prevention, and rehabilitation of all athletic injuries," Head Training Coach, Cody Carpenter said. "A part of our job is hydration and that comes with the preventative side of injuries."
She made it to halftime. There were only minor injuries, sprained ankle, turf burn, and so on. Veath didn't want another incident like the first game of the season. When one of the players had torn his ASL; it was truly a painful sight. She loved helping people, just not the process of how they got there.
"I don't like when people get hurt but I like feeling like I know what to do in that situation," Veath said. "I don't want anyone to get hurt but I remember I'm a professional and I know what to do." 
Another quarter went by. Every second flew by like a never-ending clock. During the game, it was the trainers' responsibility to follow the game wherever it goes. Their reaction time was quick and their attention to detail was incomparable.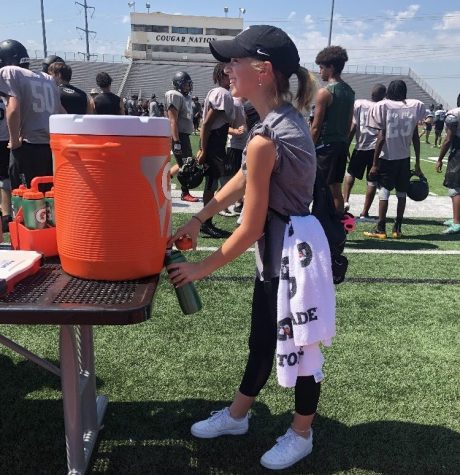 Each trainer has their own assignment, being prepared is important. In case of emergencies, everyone knew what to do, where to go, and what should be done. 
"When someone gets hurt, it's a very serious thing," Veath said. "But we're kinda more in the background, which I'm okay with, we don't want to be front and center."
When the game came to an end the stands were quickly vacant. The blinding stadium lights covered every inch of the field, the rest of the town covered in darkness. As the trainers packed up their supplies, a relaxed air surrounded them. Another game with no severe injuries- that was the goal. 
"We do not get the recognition often, but when we do it is very appreciated," Veath said. "We're just like that supportive sport's mom behind the kid."
Leave a Comment