Those Who Have to Clean Up the Mess 
A hush falls on the halls that were once filled with life. The bustle of student life has settled for the day, leaving the hum of the lights to take up the silence. 
March 2020 offered spring break, leaving an excitement in the air. Eagerness to have their now extended break hung in the hall, some slightly worried about the unexpected change that resided in the air, but a hopefulness overpowered that. Coronavirus was new, it could be handled now that lockdown was being enforced, so maybe this would just be a long break from school, many told themselves.
For some, it was quite the opposite.
As the sun grew warmer and the extended summer vacation was waning. Some rolled in preparing for the fall's next lineup of students, the school's silent halls were cut by the rotation of the worn down wheels, tension filling the air. How would anyone expect this? 
With a stop at the door and the puff of the sanitizing spray, their new reality had begun.
….
Custodians in schools all over America have been impacted by the struggles of Coronavirus and the TikTok trend "Devious Licks." 
"The work is obviously multiplied," Head Custodian Sandra Morales* said. "Outside of work, there isn't as much time to go out with family or do other activities."
As the world experiences rapidly changing conditions, the custodians at TCHS have had to adjust to each change with efficiency and urgency. Per CDC guidelines, custodians have had to not only double their responsibilities at work, they are also tasked with being hyper-aware of their physical health due to the exposure they may experience with the virus daily. 
"Before COVID came for spring break, I was supposed to go home to New Orleans to visit my mom," Custodian Leatrice Tony, known as Mrs. Ann, said. "I couldn't go because I had to stay here to stay at work and disinfect everything."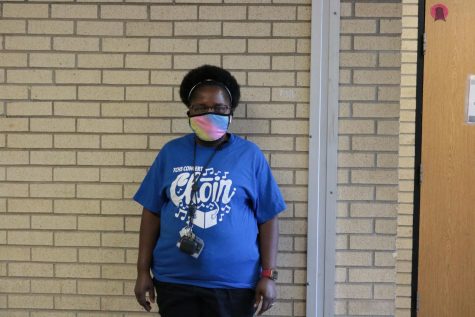 On top of that added responsibility, as the TikTok trend "Devious Licks" grew in popularity, a lot of their own time had to be used to quickly fix the aftermath of a destroyed restroom. Students were destroying their own facilities in order to gain popularity on social media and left custodians to handle the consequences. Regardless if it was a stolen soap dispenser or a stall covered in red dye, they were quick to take action and make sure that students still had proper access to their own facilities. 
"They're doing an awesome job trying to clean up after kids that messed up," Assistant Principal, Tricia Felicien said. "It's unfair to them, unfortunately, but [the custodians] have done it heartily and with a smile."
While many may pass by them, they're always present and moving. Whether it be roaming the halls awaiting their new assignment or rushing to clean tables for the next lunch as quickly as possible, they are always pulling the work. And the load is heavy, they say. 
"Everyday they're always going around and cleaning trash or cleaning the lab stations and everything," Biology Teacher Carelys Kenney said. "Even though we try to clean up after ourselves, they are always having to pull and do a lot more of the work for us."
COVID remains rampant in our society even today. As numbers in Texas are reaching up again with our current total of 2,143 total cases from the first day of school Aug. 11 through Oct. 1 in LISD, (LISD Covid Tracker), custodians have had to stand at the forefront of it all. Since the beginning, they've been an essential part of combating the virus and making facilities safe enough to have an in person school year.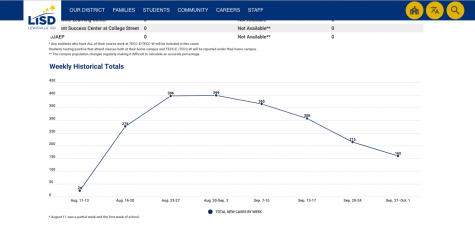 "It's the kind of world we're in right now," Kenney said. "I think we're all doing a little more in terms of precaution and we should of, of course, be appreciative that they're doing that for us." 
Since the beginning of COVID, they've had to integrate new routines and new schedules in order to stay safe. Plans went on hold for what was supposed to be their break and time for family in order to keep our facility in operation and enable the district to move forward with a plan for the remaining and upcoming school year.
Felicien notes that they've had to be more diligent with wearing their face masks and gloves as well in order to avoid becoming infected. 
"With the virus, they're having to clean more and sanitize properly," Felicien said. "They're constantly called upon to make sure spaces are clean and sanitized to manage and minimize the spread of covid." 
Now that all students are back on campus and the restrictions from last year have lessened, they're still facing new challenges. "Devious licks" have resulted in custodians being pushed to not only be quick to sanitize high-contact surfaces, such as stair railings, but they have to also have to add on the responsibility of reporting and cleaning up the chaos of this trend. 
"
We had to take pictures and send them to the principals and do all types of stuff, we didn't like it," Mrs. Ann said. "For me, if they vandalize in the morning, I have to come from my work outside to clean up the mess they left, which stops me from doing what I'm supposed to do, then go back outside. That's double the work.
— Mrs. Ann
Students have stolen things ranging from soap dispensers and tissues to pulling water fountains off of walls. Custodians remain to be responsible in the end, they work to do what they have to do for the school to continue to operate.
"Students shouldn't be destroying their facilities," Kenney said. "It's completely preventable and it's unfair for [the custodians] to have to do it." 
While change is underway, there is still a lot the custodians do, even on a normal day. They've shown that they worked hard for school safety and for the campus to be able to use the facilities. While the vandalism is being handled, COVID will continue to be an issue until we as a nation lower the numbers, Felicien says.
"We try not to let the stress affect us," Morales said.* "There are moments where you feel frustrated with what all is going on." 
At the end of the day, after their last wipe or sweep of the floor, custodians can finally return home to their families to do it all again tomorrow. The ending to an exhausting day is worth it for the protection of our faculty and staff. The custodian team continues to keep the campus in order despite the challenges that arise and they do it again and again for the continued relief of the school's community, despite how it may affect them at the moment.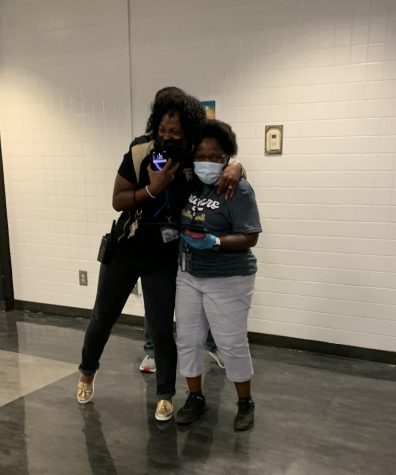 Mrs. Ann received the "Staff Member of the Month Award," for August after faculty voted her the most deserving. Mrs. Ann and Sandra Morales both agree that in the end, they don't want to let it affect them too much. Morales says she dedicates the time she has to her home and leaves the baggage of work problems here for the next day.
Mrs. Ann started working at TCHS in 2007, left and came back in 2018. She finds the strength to face the challenges. 
"I work, do what I need to do, and go home," Mrs. Ann said. "I love y'all, but I'm not gonna let y'all stress me out. If I let anybody stress me out, I would be dead and gone."
*Answers translated from Spanish to English by staff writer Ashley Palacios
View Comments(1)