Dreams of 2028 Paralympics: 'I found myself in my sport' 
The moments begin ticking down before the race starts. When time seems to disappear altogether her tunnel vision takes over. She is surrounded by her own thoughts bouncing around in her head before she can take off.
Olivia repeats the same phrase in her head before the race. Don't throw up, don't throw up, don't throw up.
 Olivia reassures herself by promising herself pizza after the race. In the few moments she has to herself, she takes in all the work put in to be a part of it. 
This race is only the beginning for Olivia. 
Dreams of 2022 and 2028
Olivia Molnar is a junior with massive goals for herself. 
Last year, Molnar was selected to be a part of the 2021 US Junior Paratriathlon team for the first time. Now she hopes to compete in the 2022 US Paratriathlon Team as well as the LA 2028 Paralympics. 
Molnar was diagnosed with cerebral palsy when she was first born, a condition that affects a person's ability to move and maintain balance. 
This hasn't stopped her. 
To prepare for her 2022 Paratriathlon team and 2028 Paralympic dreams, she is in the gym three times a week for about an hour. She does some practices from 5 p.m. to 7 p.m. and on the weekends she does 13 miles long bike rides and 10 mile runs. 
The prerequisites for the Paralympics change every four years. Molnar has to stay on top of herself to be ready. For track it's much like the Olympic trials, but for Triathlon it's a selection process based off of your previous races.
Being a part of the USA's Para-triathlon junior team in 2021 was a major accomplishment to Molnar, but she says the application process was one she did not look forward to. She explains it was a seemingly endless process of filling out forms, much like the college application process, all before she even got to participate in any athletic events. Household income? What do your parents do? Where did they go to college? Are among some of the questions asked. 
But before she got on the team in 2021, she had tried the year prior in 2020 only to find out she had missed the application deadline. Molnar was frustrated, but made sure that the next year she would turn it in and be selected.
"I missed the application deadline so I was really mad," she said. "So I prepared again next year and I actually got in so I was really happy."
Molnar is applying again this year but is less than excited to spend a weekend repeating the application process.
"It's very tedious," Molnar said. "But it's all worth it in the end."
School & Preparation
Before training comes school. 
Molnar is in LISD Collegiate Academy, taking college level courses. She mentioned that physics is her heaviest subject this semester and one she has to stay on top of. Anytime she gets a free period she works on her school assignments to avoid doing it at night when she is tired, which doesn't always happen. 
Not only does she have academic rigor, but she is also a student athlete on campus. She competes in both swimming and track.
She has been on the swim team for the past three seasons and the track team the past two years. Swim coach Jennifer Peele has been able to coach Molnar and witness her success.
"Olivia is hardworking, full of character and has fun with her teammates," Peele said. 
Molnar prefers the Freestyle events. Peele likes to mix it up for her and have her do Butterfly and Backstroke, as well, at some of the meets. She competed in the 50 Freestyle and 100 Freestyle at the District Swim meet.
Molnar also competes in track and field for TC. Molnar competed in the 100m wheelchair, 400m wheelchair and shot put 4kg wheelchair events at the Area track meet April 21 where she placed first in both the 100m and 400m races. Molnar, being a perfectionist, felt that it wasn't her best. In order to compete at the Area meet she had to qualify at the district meet, where she got first place as well. Molnar will now compete at the state meet May 13 after meeting the qualifications.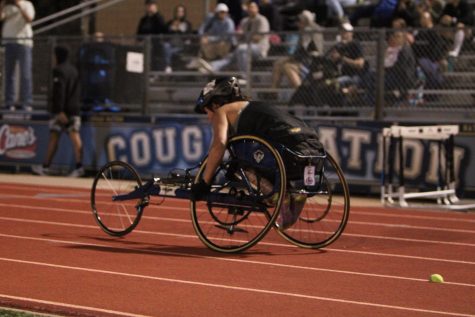 "I lost feeling in my hands half way through," she said. "There were a lot of people there. It was really fun and I enjoyed cheering people on."
Support and New Perspective 
Some of Molnar's biggest supporters are her parents and little sister Maria. She says her family is very supportive of her and jokingly added that her parents were already making plans to vacation wherever the Olympics take her. 
"My sister Maria's a swimmer as well. So we are constantly in and out of the pool, she's very supportive," Molnar said. "She also runs so she'll go on runs with me, I'd say my family is probably my biggest supporter for sure."
For Molnar it wasn't always like this; having a disability, she felt limited. Until she found her sports. 
Molnar credits her parents for always encouraging and urging her to participate in different activities. She remembers her parents always telling her she was going to do sports. She figured participating was always inevitable.
It wasn't until she dove deeper into her sports of choice that she realized that a new world awaited. 
"There was doubt, but once I got started it was like, there's so much I could do." she said. "The opportunities were endless."
Growing up Molnar remembers the days she spent with her dad watching sporting events on TV. They watched everything from Michael Phelps to the Williams sisters. She remembers her dad's obsession with tennis, though she never expressed interest in participating. 
"We watched every open," Molnar said. "To this day we still watch every open."
Multiple people in Molnar's life are extremely proud of her accomplishments. She has big goals and dreams for herself, but her biggest accomplishment and proudest moment isn't the races and triathlons. Instead, she takes pride in being able to be an inspiration to younger kids like she once did watching professional athletes. 
"Watching other people do it is an inspiration," Molnar said. 
Her smile comes from more than just competing; it comes from the happiness that she has found within herself again. 
"I'm most happy about finding myself in sport," she said. "I started this two years ago and I've really grown. I wouldn't be who I am without my sports."
Leave a Comment