From Faith to Fashion
He arrives at a warehouse to see the shirts he recently designed. He becomes anxious to see his final product after all the decision making he has had to overcome to finally create his own shirt design. 
He is led to two large brown boxes. They are filled with several neatly folded black shirts. The guy who printed the shirts pulls one of the shirts out of the box and hands the teenager one of the shirts. He looks at his freshly pressed on design. A wave of anxiety yet satisfaction flows through his mind. Thank God, he thinks. They came out way better than he had anticipated. 
Three months ago junior Dylan Guevara started his own God driven clothing brand that he named "Risen King."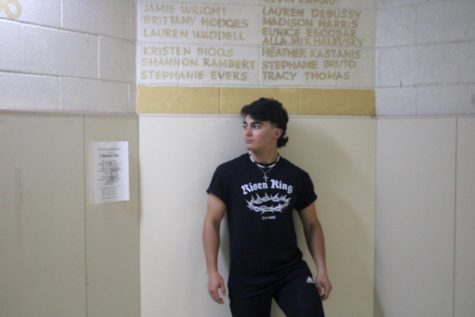 "The meaning behind Risen King is to remember the promise that Jesus made to us which was that he would die on the cross and that he would raise again in three days," Guevara said. "There is so much importance in being able to know that he rose again and that he defeated death."
Dylan practices his faith often and has spent a large amount of time trying to spread the gospel to the people around him. His main objective in life is to spread the Gospel and he does this through his clothing. 
The people that purchase his shirts consist mainly of students from school, church and family friends. Students at TCHS now wear his shirts around campus. Dylan expressed that he enjoys seeing students wear his shirts around campus especially considering what the shirts mean to him. 
"I hope somebody sees my shirt and they are reminded of what Jesus did for them,"Guevara said. 
Junior Gadiel Ferrer is one of many students who have purchased a "Risen King" shirt from Dylan and he wears it quite often on and off campus. He purchased a shirt as a way to support both Dylan and his church. He is also fairly close to Dylan and thinks that Dylan running a business is phenomenal, especially at his age. 
"If done right, anyone can run a business- even a teenager like Dylan," Ferrer said. 
Dylan sells his apparel locally compared to other clothing brands you may find online. He has an instagram page dedicated to Risen King clothing which is @risen.king.apparel. The shirts are $20. If interested, buyers can direct message the account on Instagram with shirt size and preferred design.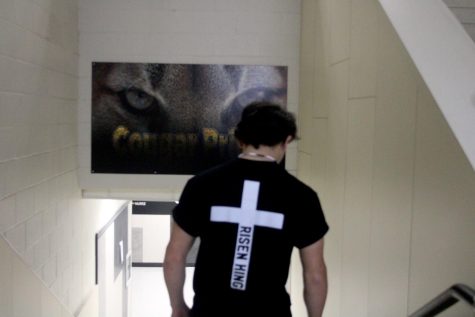 When it comes to the delivery of the clothing after purchase, Gadiel says for him it took around a week or two for his shirt to arrive. He explains how simple and easy it was to order his shirt and his experience with "Risen King."
"I asked him (Dylan Guevara) if I could buy a shirt and he wrote my name down for the preorder and I got my shirt when they received their stock," Ferrer said. "He (Dylan Guevara) was pretty professional and he kept true to his word and delivered a quality product, I would rate my experience 5 stars." 
Dylan mentioned that he is working on more designs and projects so next time you are roaming the halls of TCHS look out for some new Risen King apparel designs and Dylan wants students to remember what that white cross on the shirt represents.  
"I want more people to know the name of Jesus and want people to know who he is," Dylan said. 
Leave a Comment