Zucchini Bread
Senior finds a passion for videography
Michael saved up every penny he had to purchase a new camera. He left the store with new materials to perfect his craft. Not knowing what would happen next, he let his imagination go wild. 
And Zucchini Bread was born.
The Beginning
Young and ambitious Michael had a special relationship with videography.
"I started out doing dance videos in middle school," Senior Michael Suchici said. "I watched Cole Bennett, (Videographer and music video Director); that helped teach me a lot."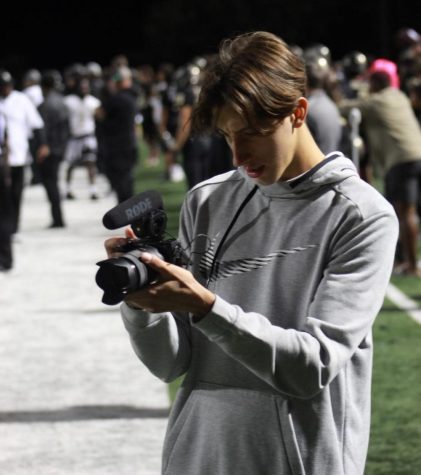 Senior Michael Suchici is a self-taught videographer and photographer, who has been active for over 3 years.
"I taught myself by watching YouTube videos and just testing out edits to see what looked good and what didn't," Michael said. 
As far as editing goes he looks up to Cole Bennett, Dotcomnirvan, Jelani Miller and Bryan Delimata. 
"Bryan Delimata is a big one [inspiration] his tutorial videos helped me a lot," Michael said.
Zucchini has been Michael's nickname since middle school because of how his last name sounds, ever since then it's stuck with him. So he created an instagram page for his videos with the name @zucchinibread. 
"I knew it wanted zucchini in my brand name," Michael said. "So I tried coming up with words that fit with it, but could also tie into a business setting."
In doing that he came up with the word bread.
"Not only is zucchini bread an actual food, but bread can also mean money," Michael said. "So yeah, that's how I came up with zucchini bread."
Now
"I like filming because I get to use my imagination and can create a story," Michael said. 
For software, he uses Adobe After Effects, Premiere Pro and Photoshop.
"Just the editing takes on average 6 to 8 hours and filming can be a long process as well," he said.
Though the process is sometimes long and time consuming, Michael appreciates the work he gets done in order to make his videos a great experience for his audience.
View this post on Instagram
Senior Nick Smith has been friends with Michael for a long time, Smith takes photos alongside Michael at games and events. 
"I've met people in the industry that are selfish," Smith said. "But that's not Mike."
Michael connects with videography because he gets to reflect his imagination and the way he thinks through his videos and editing.
"Mike is my best friend, almost like a brother to me," Smith said. "We started working together this past summer, everywhere he's at I'm at, and vice versa."
Michael has been on the Varsity tennis team for three years. Head Tennis Coach Ryan Turnage is proud of Michael's accomplishments, both his videos and his work as a tennis player. 
"I've seen a couple of his videos and thought they were great," Coach Turnage said. "It wasn't long after seeing them that I was telling him he needs to come do one for my kids soccer team."
Turnage describes Michael as a hustler, on and off the court because he's such an involved student.
"He makes good grades in tough classes, works 20 plus hours a week at walmart, plays in the middle of the lineup for a pretty strong boys side on the Varsity tennis team, and spends a lot of time making these videos that are starting to create a buzz around the school," Coach Turnage said. "Not sure when he sleeps actually."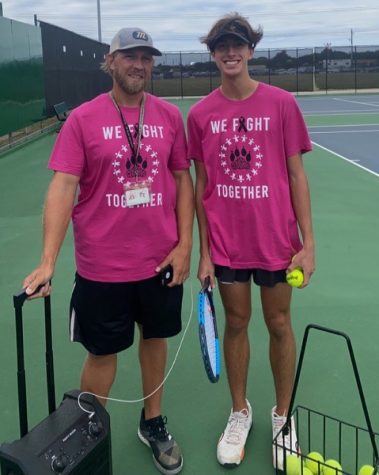 He even plans on playing intramural tennis in college.
"He isn't just focused on him," Smith said. "He's trying to help those around him. Mike is just an all around positive person."
Michael is also a member of The National Honors Society and has been since his sophomore year. This year he was elected Vice President of Activities.

He was also nominated for October student of the month, and won.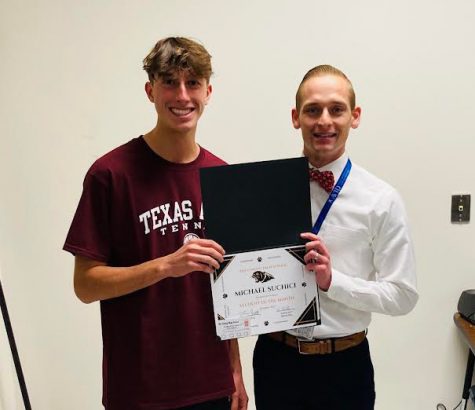 "I didn't expect to get student of the month," Michael said. "It was out of nowhere. But it feels good to get the award." 
Next Chapter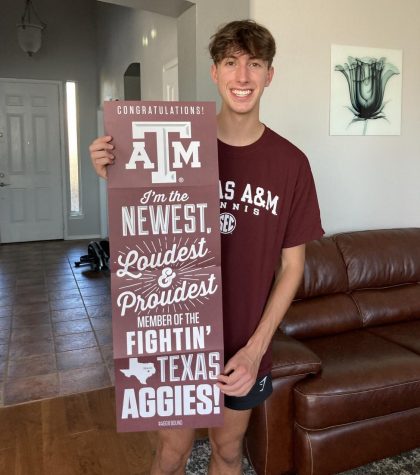 Michael will continue his academic career at Texas A&M University where he will be studying Visualizations for his major and he will minor in Business.
"Visualization is 3D modeling and editing- a form of engineering," Michael said.
Throughout his four years at The Colony High School Michael was in the Collin College Collegiate academy and will graduate high school with an Associates Degree Of Science.
"To me he's grown so much in such a small amount of time," Smith said. "And he will continue to grow because he's trying to be the best he can possibly be by using his imagination and not others."
Michael and his account are prospering and have high aspirations.
"One of my main goals right now is to grow Zucchini bread and gain a following," Michael said.
As of Nov. 12,  Instagram @zucchinibread had 152 followers.
"I soon want to be able to fall back on music videos," Michael said. "But I enjoy making sports videos." 
He has made videos of and taken pictures at the school's football games, cross country meets and basketball games. He has even shot a music video for one of his classmates. "I would love to have the video stuff come out on top for me," Michael said. "But if not I'll figure it out."
View Comments (3)