Wrestling Season Begins
Wrestling season has begun after both girls and boys wrestling teams had a home match competing against both Colleyville Heritage and Frisco Lebanon Trail. The match was Nov. 11.
The coaches are extremely excited for the upcoming wrestling season and they are entering the season with high expectations. Ryan Bascue is the brand new head coach for girls wrestling. He is looking forward to his first season at The Colony.  
"The biggest goal I have is establishing a strong culture," Coach Bascue said. "As far as the season goes, I believe we will be competitive in our district and throughout the state."
Boys Wrestling Head Coach Chuck Brown is excited for the new season. Last year, due to COVID, wrestling was postponed to only the second semester. Brown is ready to have a full season again.  
"I'm always excited for a new season to begin to see how athletes will do, our kids are super hard working," Coach Brown said. "I think our team can be very  successful this season."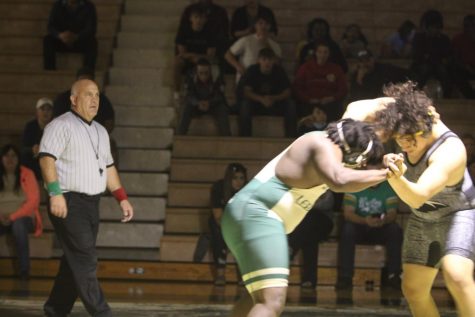 The wrestlers have high hopes that it will be a good season. Senior Juan Merchan is a varsity wrestler and is looking forward to his last season wrestling at The Colony. 
"I see our season going far and our team doing well with a high record," Merchan said. "My plan is to go to that match and leave out with my hand raised."
Leave a Comment