Review: The Yard Milkshake Bar
A cool breeze hits me as I enter the door, it's nothing like your average milkshake place. Upon walking in you smell the sweetness, and can see it in the employees friendly smiles.
As seen on "Shark Tank," The Yard Milkshake Bar had their grand opening on Sept. 24. They are located at 4940 TX-121 Suite 100, The Colony, TX 75056. Previously obtaining this suite was Poke 365 Fusion Sushi and Grill. The Yard has 18 locations in the U.S. and The Colony store is the newest addition in Texas, but they have two other Texas locations in Georgetown and and Austin. 
A little over a week after their grand opening, I picked my little brother Phoenix Barrett up on Tuesday Oct. 4. from school and we shared a "Cookie Monster" milkshake and a "Birthday Cake" edible cookie dough pop.
It consisted of "Cookie Monster" ice cream in a chocolate iced jar rolled in "Cookie Crisp Cereal." Topped with whipped cream, a cookie dough sandwich, cereal, and chocolate and marshmallow cream drizzles. The milkshake was good and very sweet. Phoenix rated the shake a 10/10 but I rate it a 7/10 because I wasn't a big fan of the flavor.
The edible cookie dough was very good, it was handed to us straight from the freezer. So it was nice and cold when we ate it. The cookie dough was dipped in white chocolate and it had colorful sprinkles on top. The chocolate hardened from being frozen but once you bite into it you get to the soft, thick cookie dough. Phoenix and I rated the "Birthday Cake" cookie dough pop a 10/10.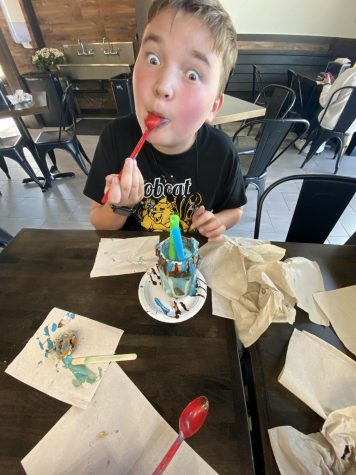 The Yard has options for everyone. Those with different dietary restrictions have been considered by The Yard. They have both gluten free and vegan options. And they even have lactose friendly ice cream flavors.
The staff was super nice and welcoming. We were greeted with smiles as soon as we walked through the door. They were very helpful in explaining things and answering any questions we or any of the other customers had. They were also good at keeping the seating areas nice and clean, which is important and a good thing to see at places like this. 
The vibe of The Yard was very modern. They had popular music of all genres playing overhead and was set up with a Texan style theme throughout the(food spot). There was also fall and halloween decorations in the milkshake bar to go along with their seasonal items on the menu. 
All specialty milkshakes and sundaes are $16 and come with the mason jar it's served in.
While that does sound pricey, there are a lot of ingredients that go into just one shake, let alone all the shakes that are made throughout the day. You also have to consider the amount of time it takes the employees to make your shake since it is very tedious work piling all the ingredients into and on top of each other. Some might say this is too much and not worth it, but don't knock it until you try it. The edible cookie dough pint jars are $15, which also comes with the souvenir jar it is served in. Specialty ice cream bowls are $11 and a waffle bowl costs $13. Cookie dough pops are $4. And they even sell Pup cups for $4, so feel free to bring your dog and use their outdoor seating area for your pup to enjoy a snack too.
I think The Yard is underrated, it is still so new to The Colony, and not a lot of people know about it yet. Or they are on edge about going, considering their prices. But just know that the desserts are worth it and you will get what you pay for. A great option is that you can always share your dessert with someone. 
The milkshake bar is a fun, safe, welcoming and family friendly environment for all to enjoy. My brother and I felt very comfortable and enjoyed our time spent together there while sharing our after school snacks.
Leave a Comment