INCubator Students Pitch First Business Ideas
Students pitched business ideas to local entrepreneur Shawn Adams for the kickoff of the INCubator class Friday, Sept. 3. 
"I think that there's a lot of good thought and I like the fact that the majority of [the pitches] had to do with companies that focused on giving back to the community," Adams said. "I think that's an important factor that people don't realize is an aspect of business."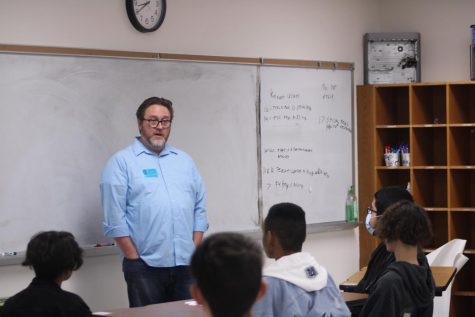 INCubator is a class designed to let students learn about business through making their own companies over the course of two years. For example, junior Olivia Mason is working on a skin and hair care business that targets POC women.
"I found out about this class through an Advisory video," Mason said. "This class lets you learn about business with an actual real life approach."
Lyquisha Ballard, the teacher for INCubator, had students present their business ideas to Adams, so they could receive advice for the future of their businesses.
"I felt like the students were nervous with their presentations, but as they went more they gained their confidence," Ballard said. "Overall I am very happy with their performance today."
The next steps in the project will be for the students to learn more about entrepreneurship so they will be able to start the businesses that they have pitched. To help them with this process, in the future more local entrepreneurs will visit the class to help the students on their journey.
"The goal of the class is for students to find a problem they want to solve, and then come up with a soul option for it," Ballard said. "They will then compete for funding, it is very much a shark tank."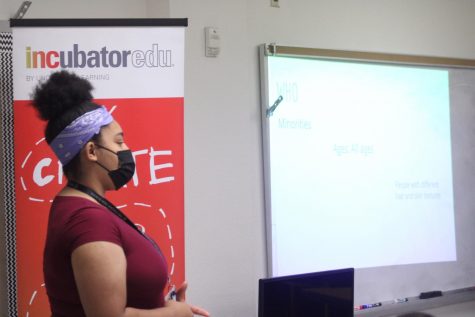 The class will continue throughout the year. At the end of the first year of the course, some of the businesses will gain funding to continue their venture. In the meantime, the students will learn everything you'd expect from a normal business class but will have the advantage of hands-on experience with the concepts being taught.
"They are learning how to get a business off the ground," Ballard said. "Networking with people who already went through the process and to develop a product. The goal is for them to create a sustainable business in the end."
Leave a Comment