Christmas Time at TC
Due to the outbreaks of Covid-19 last year's Christmas wasn't as normal as years before. But Christmas is approaching and for the first time in a while, for most, the holidays are starting to feel normal again.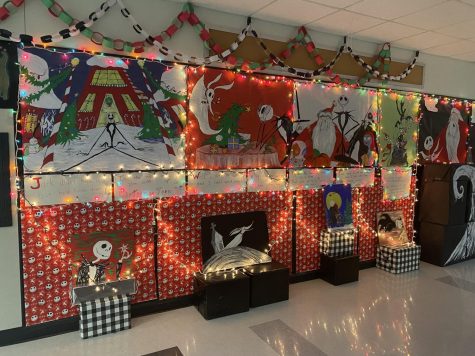 Student Council has put up many decorations throughout the school. Large paper mâché ornaments decorate the front of the school, small ornamented trees fill the hallways as lights are hung throughout the school.
"It was fun to spend time decorating the school with my friends," Senior StuCo member Adrian Morales said. 
Adrian helped put up Christmas trees in the cafeteria/ commons area and in front of the library.
"My favorite part so far about decorating has been the Christmas spirit that fills the halls," Morales said.
The showstopper is the Art hallway. For every holiday and every season the art department decks out their hall with beautiful pieces made by the art teachers and their students.
"This year we decorated The Grinch from Dr. Seuss," Art teacher Heather Jones said. "We created multiple scenes down half of the art hallway from the movie."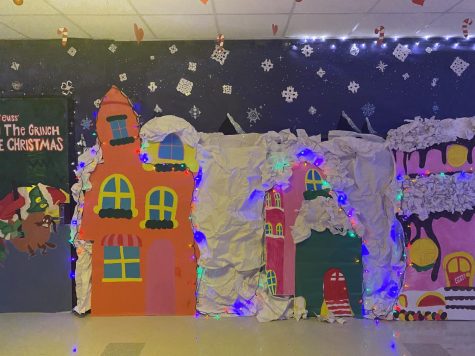 There are several different themes in the art hall this year such as, The Grinch, A Nightmare before Christmas, A Cabin Christmas theme and a Candy Cane forest.
"It is always a lot of work," Jones said. "But we do it as class projects and it is worth it once it is complete. I think it makes the whole school get in the Christmas spirit when they walk through it."
Christmas is a special time of year. There are so many people who celebrate differently and have different meanings of what Christmas means to them.
"To me, Christmas means spending time with the ones who mean the most to you," Morales said.
To some, Christmas is just about receiving gifts. But not for Jones.
"I think that Christmas is all about sharing the Christmas spirit with friends and family and knowing the true meaning of the birth of Christ." Jones said. "I like giving to others, both with gifts to my own family and to those that need help during Christmas time."
Jones even plays Christmas music in class. 
"My favorite Christmas music is all of the Pentatonix Christmas songs, especially the Drummer Boy song," Jones said.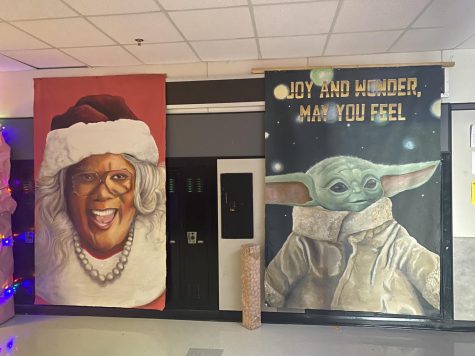 Also to keep the Christmas spirit up, this last week of school there will be dress up days.
Monday is pajama day, Tuesday wear your ugly Christmas sweaters, Wednesday dress as a Christmas character, Thursday wear your winter gear, and lastly flannel Friday.
View Comments (1)