For Teens: Thrifting is Here to Stay 
You walk into a local thrift store and you smell the scent of used clothing and worn down wood and hear the sound of shopping carts moving and a barcode scanner beep. You see the large colorful arrangement of clothing in the store and excitement arises within you because although it is a lot of clothes to go through you know there is a treasure waiting for you in the jungle of clothes. 
Sustainability 
Teens are now using thrifting as a way to get rid of "fast fashion." Fast fashion refers to the manufacturing of clothes that is focused on high volumes of clothing, according to The Good Trade. It uses low quality items and can have negative impacts on the environment and the workers.  
Senior Mia Taylor also believes that thrifting is eco-friendly, which she describes as creating less waste and minimizing a carbon footprint. 
"Instead of buying brand new pieces that will most likely die out with upcoming trends (as our shopping industry tends to jump on bandwagons), thrifting used pieces allows for unique styles and ethical shopping," Taylor said. "The deal with fast fashion is that it expands outside of the well-known "cheap" shops such as Shein and Romwe."
Taylor explains that big brands are also to blame. 
"Brands such as Nike, Forever21, and H&M are all brands that use underpaid and poorly treated workers to produce clothing," she said. "While thrifting alone doesn't halt these operations alone, it could decrease the supply and demand from these companies to constantly pump out new pieces." 
The secondhand market is projected to double in the next five years, reaching $77 billion according to the ThredUp. Fashion trends have shifted from fast fashion to second hand fashion throughout the pandemic. Some students are interested in becoming more sustainable. Senior Alon Grommesh prefers thrifting because it's a way to reuse items, instead of throwing them away.
"Thrifting is like dumpster diving, one man's trash is another man's treasure," Grommesh said. 
Sophomore Jairo Ramirez enjoys thrifting and believes that it benefits the planet by contributing to less waste. 
"I save the planet single handedly [When thrifting] and I can get cool clothes," he said. 
Economic Impact 
Students not only enjoy the benefit of helping the environment but also the dramatic change in cost compared to retail clothing. Junior Thomas Caouette has noticed the price difference. 
"I enjoy thrifting, as it is an easily accessible outlet for finding quality clothing at very low prices," Caouette said.  
Traditional thrift stores have been around since 1897  when The Salvation Army came to the U.S., according to ThredUp, an online thrift store that is trying to "shape the future of fashion." Thrift stores have recently made a huge impact on the fashion industry. Thrifting has become a very popular trend. Particularly, teens have realized the great benefits of thrifting. Junior Jacob Sandoval has found a knack for thrifting. 
"I thrift because I can find unique pieces that have history for a cheaper price," Sandoval said. "I also go with my friends so it's nice being able to go out and be with them as well." 
However, this recent popularity brings in more customers for thrift stores but also can bring trouble for the workers. Freshman Julius Torres works at The Thrift Giant in The Colony and states that despite all the good that thrifting brings, it's low prices can cause people to treat the clothes and store poorly.
"The worst thing about working at the thrift store is cleaning up after all these people," Torres said. "I literally see people pick up an item and just throw it on the ground and walk away." 
Carolyn Schneider, author of The Ultimate Consignment & Thrift Store Guide states that the average discount a shopper can find on apparel in thrift stores is upwards of 50% off.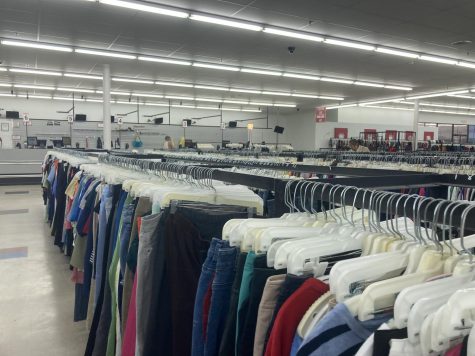 "I have found a $300 Burberry jacket for $40," Torres said. "Polo shirts would be at the retail store for $60 and you find it at a thrift store for $7." 
The price difference between thrift stores and retail stores plays a big factor in the recent popularity of thrifting.  A part of the thrill of thrifting is it's mystery. Thrift stores contain a variety of products from clothing to furniture.
Freshman Emma Wissinger said that she found a Gucci sunglass case. Designer items can be rare to come by at a thrift store. Junior Max Kenna found $50 in a jean pocket while thrifting. 
Many people have taken the low priced clothing as a business opportunity. They buy the heavily discounted clothing and resell it for a higher price. Another opportunity for teens to make money. 
"People come into the store once or twice a week buying in bulk and spend around $200 and ship the items to Mexico to resell it," Torres said.
Torres believes that thrifting can have a huge impact on the world. Item by item.
"Instead of throwing all these clothes away it goes towards people who can't afford expensive clothes," Torres said.
View Comments (2)