Venezuela To America
Anabella got up to get dressed for school. She looked out her window to catch the view of the trees standing still with the beautiful birds chirping along the branches. She brushed her teeth and headed out the door as the sun shone on her. It's always so hot in Venezuela, she thought. 
Anabella Romero Bravo was born and raised in Maracaibo, Venezuela. This was her home, her country, but her family was ready for a change. 
In 2020, Anabella and her family immigrated to America for more opportunities. 
Life in Venezuela
Anabella's life in Venezuela consisted of going to school from 6 a.m. to 12 p.m., doing homework, hanging out with friends or playing sports. Typical teenager stuff. 
Her favorite sport to play growing up was Kickball, she started in the first grade just when she was six years old. In Venezuela, kickball is a sport that is played professionally. She used to attend tournaments and also play kickball with her next door neighbors at home. It's a really popular and fun sport in Venezuela.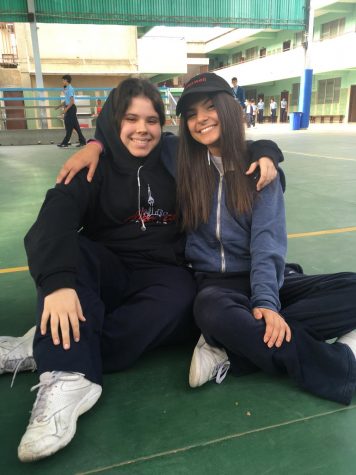 "It was a sport that I definitely loved," she said. "That's my favorite sport and it's really sad for me that there's not any kickball teams here."
She participated in activities like theatre that she loved and enjoyed doing. She participated in more than fifteen productions in her theater academy, called Barikai. Another hobby she enjoyed was ballet, the ballet academy was called Jazz Ballet del Zulia, but then quit at the age of twelve because she got "bored" of it.
"Both ballet and theatre were great hobbies for me but ballet just got really boring for me," she said. "I was young so I was unsure, but quitting ballet is something I regret a lot."
She started learning English at an academy called Centro Venezolano Americano del Zulia (CEVAZ) at the age of eight years old, which was one of her most favorite places to go after school. Cevaz was an indoor institute and everyone there spoke English. It had a large library with lots of books and an auditorium where Anabella would perform some of her Barikai productions. Going to Cevaz was an opportunity for her to learn English.
"Cevaz was really good for me because without it, right now I wouldn't speak English as I do," she said. "I'm really grateful for that academy, it helped me a lot."
The quality of public schools in Venezuela isn't very good, according to Anabella. So, Anabella attended a private school called Colegio Alemán de Maracaibo to get a better education than she would in the public schools. The two-story school was surrounded by lots of colorful flowers, a basketball court, two soccer fields and the school color was green.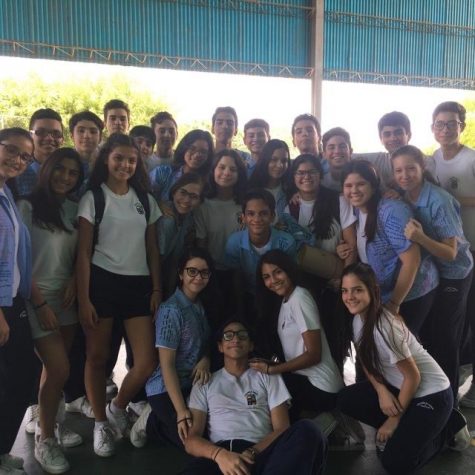 She described the building as an outdoor school due to open hallways that allowed everyone to see from the second floor onto the first floor. Also, instead of students moving to different classrooms for each period, the teachers were the ones that came to the classroom during their class period and taught, which allowed her to stay in the same classroom all day with the same students. 
"It may sound boring- but it was an actual fun experience because all of us were friends," she said. "That's what made it fun though, I miss them all."
Her native country is known for their oil industry and drug trafficking, she said. Before leaving Venezuela, her family planned to move to America because it was a more stable and safer country. Her family decided to move due to educational and financial difficulties, the only thing they were able to afford was food. 
Immigrating to America
Before finally making her way to America, she traveled by car from Maracaibo to two cities in Columbia which was a 16 hour drive. Her family decided to travel during the day.
After reaching her final destination in Columbia, she took a flight on American Airlines to Miami which was three hours. The view out of the windows was very plain, she saw fluffy gray clouds and a lot of birds that you would normally see in America. After landing in Miami she took another flight from Miami to The Colony, Texas. Her new home. 
She was very happy. She wanted to stay home because of all her friends she had there but she was uncertain. She was super excited to come to America. She planned on having a good education, a better life, and she also hoped her parents would have a better financial situation than the one they had back in Venezuela. 
"I was super, super happy after landing", she said. "I was extremely nervous but I knew it was going to be better than back home, everyone back home probably forgot about me by now anyway, especially after moving to a country that's far away."
Months after being in The Colony, Anabella began to get an education at The Colony High School. Because she's a student from a foreign country, it took some time adjusting to the bigger environment. 
She was nervous on the first day of being at a high school in America, but she began to open up. She wasn't sure if she was ready, but she gave everyone a chance to figure her out. She met friends, was greeted by nice teachers, and now has the opportunity to get the great education that she and her parents had always wanted for her to have. 
After getting used to the people and the language she started to be around, she began to understand a lot more than she usually would. Once she reached the level of having a better understanding of going to school in The Colony, she became more stable with its level of work and language. She is advancing in subjects and she is getting the education that she hoped to get before leaving Venezuela.
She knew she would miss her people back home but she felt like coming here would be a better opportunity. She wasn't getting much of the education that she knew she needed. She felt relieved going to school here because she felt like she had nothing to worry about when it came to getting her education. She was overly satisfied with the outcome of the education she's now receiving.
"I was worried at first but I started to feel alright", she said. "I can't complain. The education system here is way better than Venezuela's, It's something I've always wanted but I thought I would never get it."
She's created an impact on her teachers by showing how appreciative and grateful she's been to finally get a better education. ESL Director Jill Hargis has worked with Anabella first hand.
"I am so happy she's here, but I knew that she also had a long and hard road ahead of her," Hargis said. "I know she needed time to catch up but once she started to understand, she definitely took it and she ran with it. I am so proud of her."
Anabella loves being here, but she does miss her home at times. She misses her friends. She misses kickball. But, she knows that moving has ultimately been for her benefit, and she is thankful for her new opportunities. 
"I'm still happy and grateful I moved here, I love my life for all of the good things that have happened", she said. "Even though I can't go back to them, at least I had the opportunity to live my life with them."
View Comments (5)