Elvis lives through "Suit Guy"
Everyone's seen him in the halls. Suit and glasses.
October 21, 2021
He's in the halls. Everyday, walking to class. He's decked out head to toe everyday in funky colored suits. High collared and shoes polished. He wears large aviators, and has light brown sideburns that hug the edges of his face. Elvis inspired attire, paired with a matching briefcase. Everyone recognizes him, teachers and students. 
Junior Chase Meyer wears a 70s theme suit everyday to school. Similarly, he earned the nickname "Suit Guy" granted to him from students all across TCHS. "Suit Guy" has come to be a walking gallery in the hallways; viewed and on display.
Meyer has been coming to school dressed in these colorful suits since his freshman year. His main inspiration comes from Elvis Presley; He even goes to the stores to buy his clothes the same place Elvis did- In Memphis, Tennessee.
"Elvis is my role model, especially his personality," Meyer said. 
Meyer admires Elvis from his style to his character. His distinct fashion and eccentric dress spoke to Meyer and in return he started dressing in a similar fashion to emulate his role model.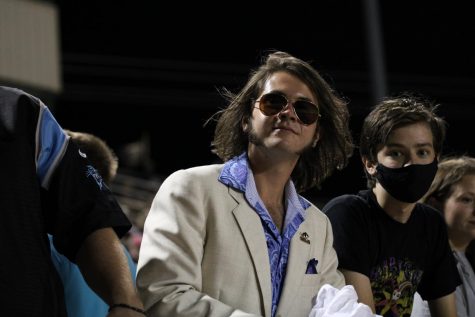 "I love his bold fashions, and I model my style off of his," Meyer said. "I admire how he is a humble, kind, Christian who has a lot of personality and charm."
Meyer had originally started dressing up for school to help him become more extroverted and make friends. He figured out that changing his style helped him stand out more and get noticed.
"In middle school I was kind of a nobody, I was unpopular and no one knew me," Meyer said. "I forced myself to be more extroverted and meet new people. I figured if I dressed in suits or at least in a very nice way I would get noticed."
Meyer is more than just a suit. He keeps himself busy with many activities. From developing his fashion sense, being an Eagle Scout- to playing on the golf team and racing cars. Meyer is currently in the Porsche Club of America, and races cars in his free time. He currently races classic Porsches, mainly his 1988 Porsche 911.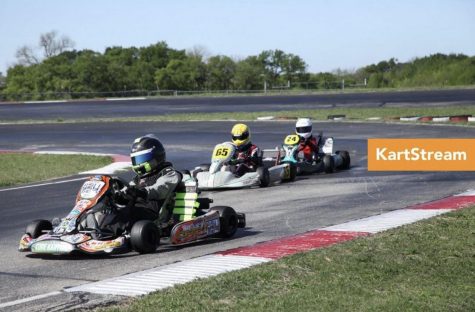 "I bought my Porsche first," Meyer said."The people in the club told me about the racing program and that's how I got involved."
Meyer has been on the golf team at TCHS since his freshman year. His fashion sense didn't go unnoticed by his fellow team. Golf coach John McDonald had noticed it too.
"I like Chase's choice of style from his wardrobe to his briefcase," McDonald said. "You have to admire an individual to be confident enough to wear what they want and to have the courage to be unique."
His efforts and new found confidence eventually worked in his favor. Meyer was voted and won Homecoming Prince this year.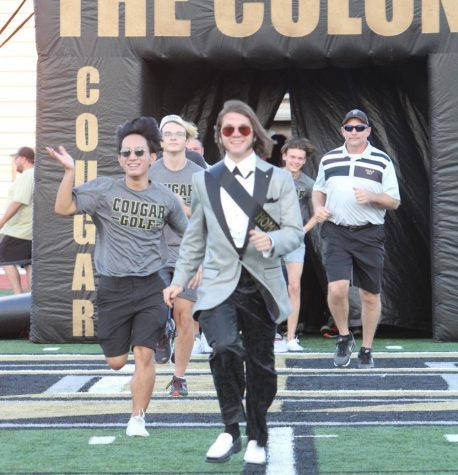 "On the ballot it actually said suit guy so people who didn't know any of the names just default voted for me," Meyer said. "It was probably because they've seen me around and think I'm cool or possibly know me."
Meyer will continue to wear his funky suits for the rest of high school, and wear them with pride. Although most people only know him as "suit guy", he has made his mark.
"People definitely see me as confident when I wear the suits," Meyer said. "I'm not afraid to do my own thing."