Anna's Cakes and Bakes
Junior Anna Emswiller found a passion to bake young- now she's founded her own business.
Pinch off this. A little of that. Does it need something? Almost perfect. The pots and pans are piling up on the tan granite countertops as sugar is sprawled throughout the kitchen. 
Anna is working. This is her workspace. 
At age 12, junior Anna Emswiller, decided to turn her passion for cooking and baking into a business. She created her own business called "Anna's Cakes and Bakes," where she creates custom cakes, macaroons and other sweet treats.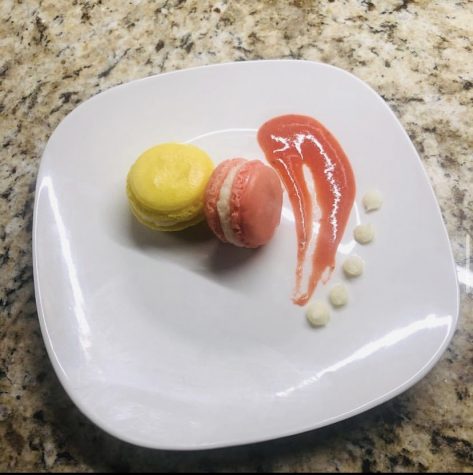 Inspired by helping her dad in the kitchen, Anna wanted to bake. Her dad would often make savory dishes leaving dessert to be unfulfilled, so she decided she wanted to take a chance at making desserts. She took it upon herself to be the baker.
"I started the baking business because my dad would do a lot of family events, he would make dinner and stuff like that," Anna said. "So when we have people over you know there has to be dessert, I would either help him cook or make dessert and I just kinda liked doing it."
Every kid needs a cake on their birthday, so when it was Anna's brother's seventh birthday, she knew what to do. Make the cake. 
"It was a dinosaur cake," she said. "It was supposed to be red, but it turned out more pink." 
She continues to get better and better through trial and error. So, she decided creating a business would be a great way to make money and do what she loves. She also watched many episodes of "Cupcake Wars" and "Masterchef." 
Anna's mom, Kristy Biel, is proud that Anna has found a passion for baking. Biel helps Anna clean up the "disaster," as she calls it, and she helps her find new recipes and cakes to try. 
"To see her put time and effort into not only learning and perfecting a skill but trying to find new ways to create delicious goodies makes us so proud and excited to see what the future holds for her," Biel said.
She likes challenging herself whenever she is cooking, on Monday Sept. 27 she brought custom cake to school. The cake was full of different techniques she had never done before. Some of the techniques she used were fondant and geode. She tried to do a sugar sculpture on top, but it wasn't how she expected it to be. 
"There are a lot of aspects that I like about making custom cakes," she said. "I've recently got into cake designing and it's really interesting because you customize everything based on colors, designs and flavors. I really like making buttercream flowers, the flowers where you pipe them out are not real but they are edible."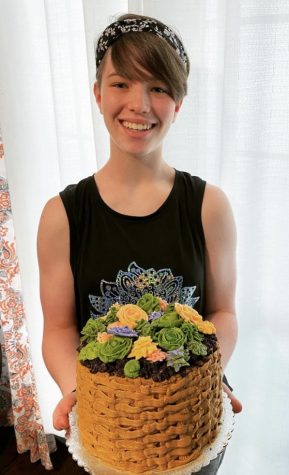 Anna, now a business owner, has been learning how to raise and save money for the expenses required to bake/sell her desserts and she is learning how to build communication skills while working with customers. 
"It has definitely given me a better outlook on how it takes to balance out work, school and life all at the same time," she said. "I've been baking on the side with work and school and everything and it gives you a lot of public experience and also learning how to work in a business."
Anna focuses on how to create cakes and desserts that her customers will be proud of. 
 "I always like to double check with the customer like, hey do they like the design, how is it coming out, or do you want me to change anything," she said. "If the customer doesn't like it I just redo it until it comes out good." 
Though she has many dozens of creations, she has her favorites.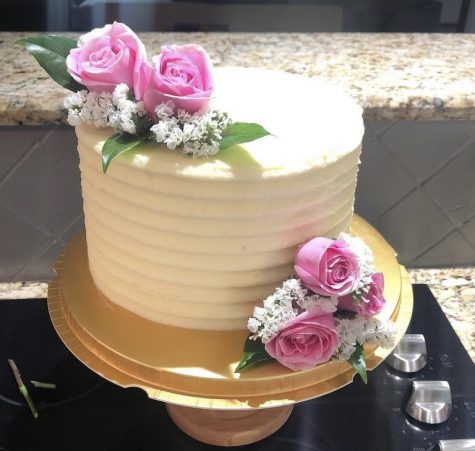 "One of my favorites I have made so far has to be one for my grandmother's birthday cake. I made a basket with succulent flowers and things like that on top, that came out nice and I really liked how it all appeared," Anna said.
She has big plans to open her own bakery, but now she has a Facebook page titled "Anna's Cakes and Bakes," that people can view to see her creation and contact her to place orders. Her mom remains confident in Anna's baking abilities. 
"I truly believe she has what it takes to start her own shop and run it successfully," her mother Biel said.
Leave a Comment