TC Returns to Pre-COVID Schedule
School Returns to Pre-COVID Bell Schedule 
As of Aug. 11, students began adjusting back to the pre-covid bell schedule. Amidst the transition back to school, the old bell schedule has been re-enforced under the assumption that this year will remain consistent.  
Last year's schedule was created to allow for safer flow throughout the hallways with one way hallways and 10 minute staggered passing periods. This year, students are back to two way hallways and five minute passing periods.
"Our biggest attendance issue has probably been tardies or students being late to school," Assistant Principal, Kelly Kirkland said. "Students having to adjust again is most likely the biggest factor."
Kirkland estimated that about 1,000 students were virtual, over half of the school itself. With every student back on campus, the hallways have been crowded and congested when the bell rings.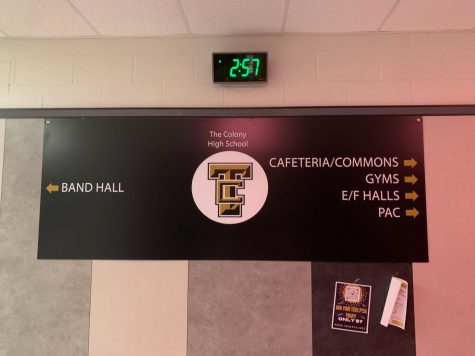 "During passing periods, the stairwells get so crowded, it's really bad," Junior Samantha Aguirre said. "I'll be standing there for like 30 seconds and it's not even moving."
Other students have also agreed that it's an issue. Junior Bailey Benavides called the hallways a "fight to get through."
"If I were to change the schedule, I would change the passing period to be about six or seven minutes," Benavides said. "Not by too much, so that the end of the day doesn't have to change by 30 minutes."
While the new schedule has taken some adjustment time for some students, Cheer Coach Heather believes that this new schedule does not pose any major challenges.
"I would say that there have been a few more tardies, but it has gotten better as students get to know their schedule better," Coach Jones said. "Most have seemed to adapt to the change pretty easily." 
Many seem to agree that the small price of a shorter passing period is fair in order to have a shorter school day. 
"If anything, the new schedule is positive in a lot of different ways," Teacher Lori Bakke said. "It's nice having a shorter day since school days are pretty long to begin with."
For students struggling to arrive to their classes on time, teachers and principals ask that students try and experiment with different pathways and routes to find the most time efficient way to class. The school has also displayed new signs in the hallways to allow for easier travel throughout the campus. 
"We're hoping it'll work itself out, however, we have also discussed ways to help students," Mr. Kirkland said. "We want to help students of course and make it easier for them."
Leave a Comment