New Ferris Wheel at Grandscape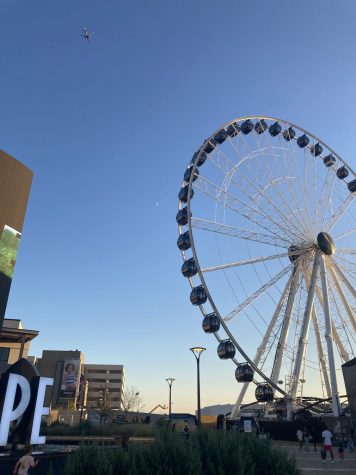 A brand new 200-foot-tall ferris wheel, called the observation wheel on the Grandscape's website, recently opened at Grandscape Sept. 10. This addition to Grandscape will attract more people from all around the North Texas area. 
The Grandscape Observation Wheel consists of 42 climate-controlled gondolas that give riders a view of not only The Colony, but also other parts of North Texas. The price to go onto the wheel is $15.94 for a general admission ticket and $12.01 for a Junior admission which is for kids ages 4-11. The duration of the ride is around 12-15 minutes and does three revolutions. 
There is also a VIP option which includes front of the line access, leather seats, glass bottom floor, upgraded stereo and a souvenir photo (per person), according to the Grandscape website. 
TCHS students have taken this opportunity to visit the nearby ferris wheel since the opening. Senior Chloe Jones visited the wheel and had a rather positive experience. 
"It was very fun. My mom, sister, and I went up in it and could see over all of The Colony," she said. 
The wheel offers good quality time to enjoy the scenery with loved ones. Junior Micaela Ohtomo went on the wheel although her experience was different from Jones's experience. 
"I did go on the ferris wheel a few weekends ago," Ohtomo said. "It was very scary for me since I don't like heights, but my family had fun. I spent most of the ride trying not to shake the cart or have a panic attack."
The wheel has not only brought The Colony community together with another entertainment option, but it has provided jobs to TCHS students. Senior Michael Martinez works at the wheel. 
"It's pretty nice, I work there, and lots of people go," he said. 
The Grandscape Wheel has its own website which allows people to purchase tickets and find employment. 
"Along with the breathtaking view from atop our 200 foot wheel, we ensure that every ride with us at Grandscape Wheel is nothing short of spectacular," is found on the Grandscape website.
Leave a Comment